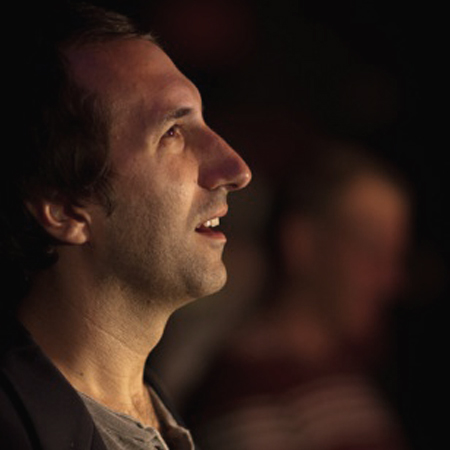 Nick Hallett is a composer, vocalist, and cultural producer working between the worlds of music, art, and performance.
After organizing a performance for the Joshua Light Show at The Kitchen in 2007, Hallett became its music director, curating the lightshow's musical collaborators and serving a unique role during live performances, translating between the languages of sound and light in realtime.
More recently, Nick's original music has featured in the project, in performances at the Hayden Planetarium/AMNH, Transmediale/CTM Festival. and Mutek Mexico.
In 2017, he completed composing a trilogy of evening-length scores for the Bill T. Jones/Arnie Zane Company's Analogy cycle. These works, in addition to other collaborations with the company, continue to tour worldwide.
Nick's first original opera, a collaboration with video artist Shana Moulton, Whispering Pines 10, premiered at The Kitchen in April 2010 and has since been presented at the New Museum of Contemporary Art,
SFMOMA
, Carolina Performing Arts,
PICA TBA
Festival, and The Warhol Museum. Hallett and Moulton were awarded a Creative Capital grant to adapt the project for the Internet. His second opera, titled To Music, is currently in development.
Additional efforts have been presented in recent years by the Whitney Museum of American Art, the Museum of Modern Art, the Ecstatic Music Festival, The Kitchen, The Public Theater/Joe's Pub,
ISSUE
Project Room, Roulette, National Sawdust, and Le Poisson Rouge, among others.
www.gutcity.com